The Music Mill
I have been a bit absent from this website recently, no blogs, no gig posts… bad website owner! The reason has been because it has been a crazy busy year… lots of gigs, teaching and fun projects including The Music Mill.
This has been a project that goes back a few years when I randomly met Makoto Oka at a bar in Japan called Bar Chit Chat. We got talking, over about 40 highballs, about music and our current projects. I spoke about my site-specific research and he talked about his Music Mill Project which used the old water wheels in Japan to power his automated sound sculpture. Since that time in 2014, I have been to Japan several times to help Makoto with his Music Mill and perform with it at two festivals in Ehime and Iwate Prefectures. Who says you can't still meet nice men in bars? Haha!
https://www.gofundme.com/themusicmill
What is The Music Mill? I hear you say…
The Music Mill is a solar powered sound sculpture made up of many automated musical instruments: glockenspiel, marimba, tuned pipes, snare drum, bass drum and cow bell. Each instrument is manually programmed through the use of pins and lift arms to create different melodies and rhythms. It is like a giant kids toy which brings joy to small and big kids! Here is a photo of th eone that has evolved over the years in Japan…
Why Make This?
I have been helping Makoto to create one in Japan over the last few years and now I would like to build one in Perth.
What I love about The Music Mill is the purely analogue way you create music with it. The whole process of the music making is visible – the motor turns the gears which lifts arms and beaters, which then hit instruments to create joyus sounds. While it makes music by itself it is also fun to play along with. Here is Makoto and myself playing along with the Japanese Music Mill at the Tobigamori Festival in Iwate Prefecture in Northern Japan.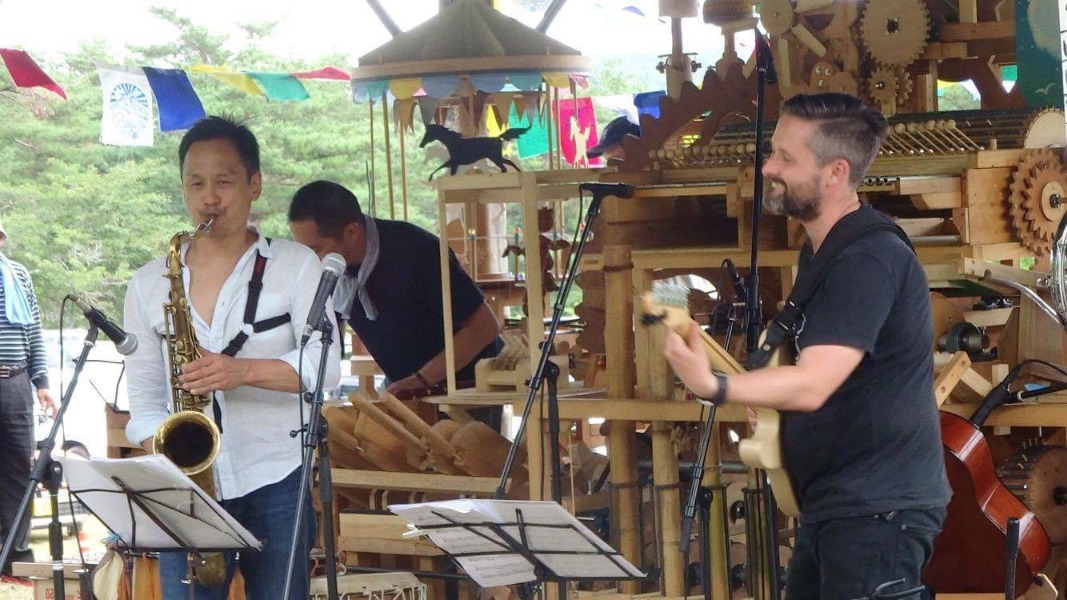 I am looking to raise funds to help me build this beast! Your generous support will go to purchasing materials, instruments, specialist tools, expertise labour and flying Makoto out to Australia. I have set up a Go Fund Me page (below) and I would be super super thankful for any contributions as it will help make this dream machine come true.
https://www.gofundme.com/themusicmill
If you are unable to give financially but are handy with building things, please make contact. I will need all the help I can get!